Landscaping Maintenance
Frank's Outdoor Maintenance
The Settler's Grove Community Association has selected Frank's Outdoor Maintenance to maintain landscaping in our area for the 2014 Summer.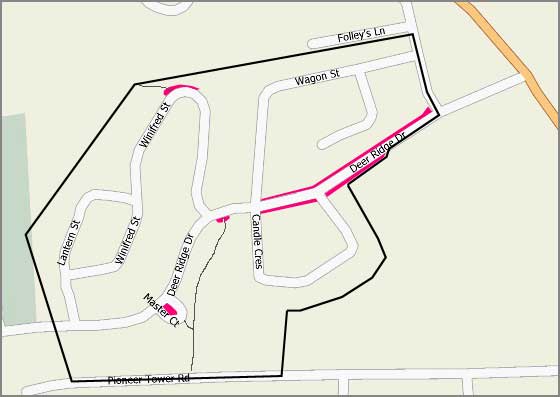 The above map outlines the boundaries of the Settler's Grove Community. Areas highlighted in pink are currently being maintained by the Association. More specifically these areas include the entrance (left and right side) of Deer Ridge Dr, the entrance to the trail located on Deer Ridge Dr, the court on Master Court, and as well the entrance to the pond located on Winifred. Below is a list of services that are provided to these areas;

A. Property Landscaping
Mowing and trimming of all lawns, taking care to remove grass cuttings from hard surface areas.
Cultivation of shrub beds and garden areas.
Regular monitoring of landscape for the presence of insects/pests.
Pruning of all shrubs and bushes as required.
Conducting a spring and fall clean up of the entire property, including blowing/raking of debris.
Fertilizing all areas each growing season.
B. Lawns
Lawns are mowed and trimmed to maintain a grass height of 2.5 to 3.0 inches.
Grass clippings are raked and swept.
Grass edges are trims neatly around beds, trees, and fences.
C. Shrub Beds
All planting areas are cultivated monthly to keep soil loose.
Weeds are removed weekly.
D. Litter Pick-up and Clean-up
Weekly pick-up of litter from the lawn areas.
All trash removed from areas.