The Settlers Grove Neighbourhood Association is happy to announce the formation of our Social Planning Committee. The committee currently consists of 5 neighbourhood members who have volunteered to organize social events for our community. Our first official event will be a neighbourhood garage sale!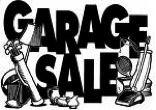 Mark your calendars for
Saturday August 22, 2009 from 8:00 to 11:00 AM
. Just clean out your basement and garage and set up in the comfort of your own driveway! The Settlers Grove Neighbourhood Association will place the ad in the Penny Saver and put signs up in the neighbourhood.
In order to help us create events that you will enjoy, please take the time to fill out this
short survey
September 1st.